Kathleen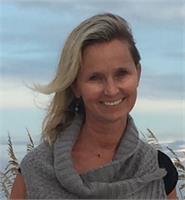 Kathleen turned to yoga in 2002 when she was expecting her 4th son, and has been practicing regularly ever since. Having put her body through much wear and tear growing up as a competitive gymnast and acrobat, ultimately fracturing a vertebra during college cheerleading, she is grateful for the benefits that a consistent practice has brought. After receiving an engineering degree from Lehigh University and spending a few years on Wall Street in computer programming and investment banking, she decided to retire from a desk job due both to her bad back and desire to raise her family full time. For years amid a variety of athletic regimens including competitive martial arts, she powered through pain until finally discovering yoga. Kathleen knows firsthand the challenges of finding a balance of effort and ease (shtira and sukkah) to deepen asanas without furthering injury, and brings this understanding to her students. Her ultimate goal as a teacher is to bring her students not only physical but mental and spiritual rewards of yoga, infusing them with tidbits of yogic philosophy, sanskrit, and theory behind the asanas. Kathleen completed her 200 hour RYT training in 2015 at Om Sweet Om and an additional training in Restorative Yoga with Gail Grossman in 2016. While her go-to personal practice is ashtanga-inspired vinyasa, she can be found teaching a variety of classes at all levels, specific to the students in front of her at any given moment. She has participated in classes and workshops with many renowned yogis, and is grateful to all of her teachers past and present for helping to shape her practice, philosophy and teaching style.
Kathleen instructs the following:
for students with little or no yoga experience.




This class is for experienced beginners who wish to take their practice to the next level. Vinyasa Flow level one classes include the basics of a flow class, which is a dynamic practice that focuses on combining movement with breath control - an energizing and invigorating yogic experience.

This class is appropriate for all levels of yoga students who have some experience with yoga. The instructor will offer modifications for newer students as well as more challenging poses for advanced students. (not recommended for pure beginners)




Get your yoga fix quick! An invigorating, centering, sixty minute flow class open to all levels of experience and ability.