Ryan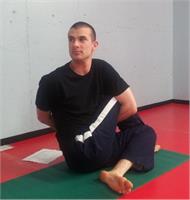 Ryan received his 200 Hour TT at Bonda Yoga in Great Neck under the guidance of Laurie Ahlemann and Jennie Wilson. Ryan also is a certified Yin Yoga instructor, received by Corinna Benner at Integral Yoga.
Ryan instructs the following:
Yin Yoga is a series of floor poses held for a longer duration of time in order to lengthen the connective tissues of the body. This helps us maintain a healthy range of motion in our joints and allows for the flow of Prana (vital life energy) to move through us. This practice is a great counter to the more active practices especially for athletes or those working through injuries because it brings the body back into optimal alignment. This alignment allows for more flexibility and stamina leading to heightened performance of any activity. Yin yoga is suitable for all levels of students.