Elva Prohens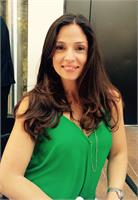 Elva began practicing in 2006. She fell in love with the practice right from the very first class. She was at first drawn to the physical benefits of the practice; she became stronger and more flexible. But it was the mental benefits that kept her coming back. After leaving her corporate job she decided to embark in the yoga teacher training at OSO where she obtained her 200-hour yoga certification. Elva is also Yogakids foundation trained because she believes that yoga is a wonderful tool to help spread kindness and empower children to live happy, healthy lifestyles.
Elva Prohens instructs the following:
For students with at least four months of yoga experience. More advanced options for arm balancing, inverting and deep flexibility will be offered.





This class is appropriate for all levels of yoga students who have some experience with yoga. The instructor will offer modifications for newer students as well as more challenging poses for advanced students. (not recommended for pure beginners)

This class is for experienced beginners who wish to take their practice to the next level. Vinyasa Flow level one classes include the basics of a flow class, which is a dynamic practice that focuses on combining movement with breath control - an energizing and invigorating yogic experience.