Sue O'connell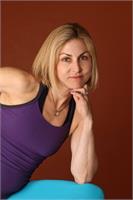 Sue O'Connells' introduction to yoga came working at Gurneys Inn and Spa in the 80's after graduating college as a physical education teacher. The seed was planted and years of teacher trainings/workshops have followed allowing her to create her own alignment inspired yoga class. Sue stresses proper positioning will allow the student to receive maximum benefits while breathing freely because the body feels "safe" in the pose.
Sue's respect for student's individual emotional and physical needs allows for use of props. The student feels supported and is able to create their pose to "fit" the alignment to their specific body type and physical needs. Going deeper isn't always the best adjustment to release congested joints and tight muscles!
Sue lives in Sag Harbor on the weekends and continues her alignment studies with master teacher Rodney Yee. Her philosophy is simple and is emphasized in all her classes: "a successful yoga practice at any level creates easeful movement without force". Practicing yoga with this simplicity is not easy yet suppleness and strength can be attained thru this simple philosophy.
Sue O'connell instructs the following:
Explore and develop healthy alignment and body awareness.Sue O'Connell brings over 25 years of experience to her Iyengar inspired classes. Students are encouraged to personalize poses to relieve tension, tightness and stress. Blocks, belts, bolsters and chairs are used to empower students to explore their bodies with a safe & balanced approach. Leave class feeling lighter & brighter!